Ok, mostly for my reference, but feel free to comment:

Name: Sparkeye
Gender: Female
Age: Fairly young. At home in the wilds, but racially/socially inexperienced.
Group: -
Race: Lynx Beastman

Appearance:
Primarily golden brown fur with darker greyish patches.
Short scruffy mane of mostly dark brown hair, sticks up awkwardly.
Pointed ears tipped in dark brown fur tufts, much like the natural lynx.
Bold yellow eyes.
She is shorter than your average human, but taller than a dwarf.
Her posture is generally quite flexible and relaxed, making her seem smaller than she is.
The way she moves looks casual, her shoulders and hips sway gently as she walks.

Dressed in a rough stitched leather tunic, with a skirt of leather scraps and pelts hanging below a sturdy looking belt.
Her lower legs are covered with rabbit furs wrapped with leather thonging. She wears nothing on her feet.
A hooded rough woolen short cloak covers her back. The edges are tattered and torn.
Around her neck hangs a cord with a bird's skull, a selection of feathers and a couple of pieces of carved antler.

Notes:
Homeland borders those of the Mountain Clan Dwarves.
Lynx tribe tend to be swift & stealthy hunters.
Prone to arrogance & short tempers.
Live in small family groups, larger gatherings result in power struggles.
Common to prove your worth, boast about achievements, seem more skilled / terrifying.
Luxurious fur, showy clothing - skulls, fur & feathers of fallen prey / enemies.

Wild & free attitude. Strong tribal culture. High respect for Shaman.
All beast tribes respect Bear tribe members. (Except Fish, who hunt the Holy Ice Bears.)
Last edited by Xyx on Sun Jul 29, 2012 7:47 am; edited 2 times in total (Reason for editing : Character Notes!)
Xyx wrote:Working on a potential character for the campsite.

Got a few names, help me pick one?

Swiftpaw

Breezeclaw

Silentfang

Firegaze

Sparkeye

Darkwhisker

Shadowfur

Basic theory - probably female, bladed weapon(s), outdoorsy, chaotic neutral.
Sparkeye
Primarily because it's Sparkly with some 'e's added in and the 'l' removed
Scanner happened.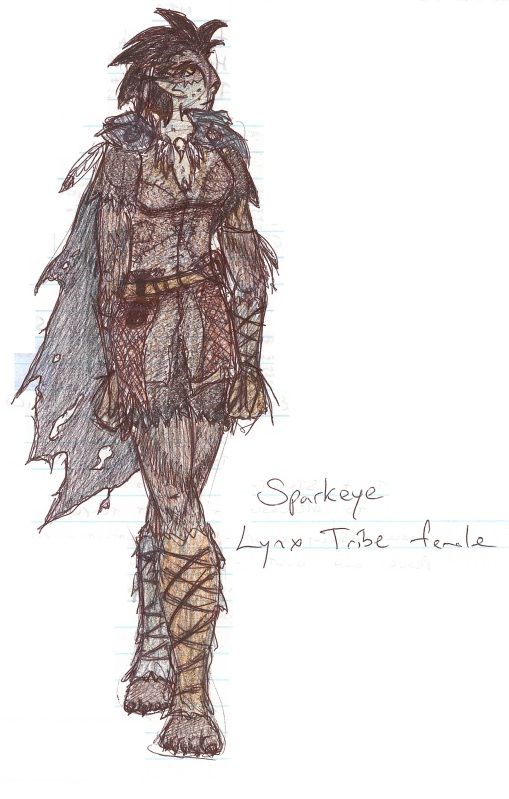 Tadaa!

Hauldr Johann Draugr




Posts

: 250


Join date

: 2012-05-22


Age

: 24


Location

: Volkrime



Similar topics
---
Permissions in this forum:
You
cannot
reply to topics in this forum